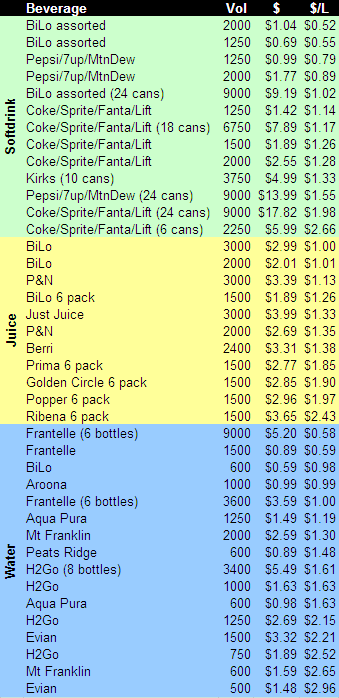 I went into BiLo across the road and noted down the softdrink, fruit juice and water prices (23 April 2006), dropped them into a spreadsheet for a quick comparison of what the various liquids cost per litre (the last column). The cheapest beverage was BiLo softdrink at 52 cents per litre. The most expensive was Evian at $2.96 per litre. That is Evian spring water, no juice or carbonation. This has to be one very magical spring. Certainly the shareholders would think so.
Rough median price for softdrink is $1.17/L, juice is $1.35/L and water is $1.54/L.
I think that we can extrapolate and say that by adding sugar and flavour to water, then carbonating the mixture you have actually devalued the water. A farmer growing fruit for juicing may well consider letting the damned plants dry up and just filter his quota of water, bottle it and sell it as "Farmer Joe's Purified Fruit Water".
Why would I note down prices? Aside from being a nerd, I am NOT a trainspotter. I was going to the stupid football to watch my idiot team get beaten by the bottom of the ladder team, grrrrr. Anyways, my girlfriend, who is full of great practical ideas always insists that we take in our own snacks, seeing as the food at the football is two to four times more expensive than reasonable standard pricing. Aside from twisties and chocolate we also get water. I was checking the water prices and noted that the softdrink was cheaper in the same volume. I wanted a 1.25 litre bottle of water. It was less than half price for me to buy some 69cent BiLo softdrink, pour the contents on the ground and fill the now empty bottle with my filtered water from home than to buy the cheapest ($1.49) 1.25 litre bottle of water. It was then that I felt a blog article coming on.
I like water. Often when I am out and about on this little ball of dirt, I become thirsty and require hydration. I like my water to be taste free and filtered if possible which means that occasionally the local tap water just doesn't cut it. Bribie Island leaps to mind; I'm thinking they pipe their water straight from the swamps.
Fortunately, shops are everywhere that sell a range of water products along side the fizzy sugar laden beverages, fruit juices and occasional pseudo-milk drinks. Unfortunately, these retailers want a premium for their plain old water.
The marketers would have us think that the water comes bubbling up from mystical pure springs found high in the mountains, either straight from a melting glacier or filtered through tonnes of dirt before being scooped up, dumped into handy plastic containers and shipped to your local shop. Naturally these springs contain some minerals and such - Sodium, Chloride, Magnesium, Calcium, Potassium. Oh and probably more
Aluminium
than you really should be consuming (thank you Coca-Cola; owner of Peats Ridge / Neverfail / Mount Franklin). Also various FDA tests in the US have reported harmful levels on Nitrates, Arsenic, Chloroform, Bromodichloro-methane, Phthalate (hormone disrupter and carcinogen) and Lead.
So is bottled water better than tap water?
No
,
no
,
no
,
no
,
hell no
.
Is bottled water better than filtered water? Well our friends at the
The Australasian Bottled Water Institute
(ABWI) would have you think that
water filters
are poisonous traps for people-killing bacteria. The conclusion of the ABWI
"Because of the problems and costs associated with water filter use, the ABWI recommends bottled water as a safe and reliable alternative."
So putting my filtered water in a bottle that used to contain softdrink is unsafe, unreliable because my water filter system has problems!
"By purchasing water from an ABWI accredited bottler, you can be guaranteed every drop you consume is safe and sanitary."
I think this statement equals "please sue me if our water is ever found to be unsafe". Nice one. I wonder if Tony Gentile, Executive Director of ABWI, can cover the legal liability, if the ABWI organisation has any funding or insurance to cover law suits when one of his members starts poisoning people with some arsenic or heavy metals.
The Australasian Bottled Water Institute
(ABWI) would like to remind you "
that human blood is 95% water
" or maybe "
Blood is 92% water
", it seems the ABWI are not that certain. Most other sites quote 83%. I imagine the folks at the ABWI have more dilute blood than the rest of us. I don't trust any of the sites as they are all non-medical and do not site sources. I'm happy to go with: there is a lot of water in our blood ... so if you're really thirsty then ... no, let's not go there.
The ABWI claim the products of their members are a "
chemical free alternative
". They should be
VERY
nervous about making that claim for a variety of reasons. I also like thier claims under "Benefits of Good Hydration" one of which is "
Protection - Cancer Research!
" ... so water protects you from cancer research? Sweet. Those cancer researchers are a menace.
The hippies over at
The Earth Policy Institute
have a great little essay on bottled water.
If you want to kill off bacteria in water then
SODIS
method sounds like an exceedingly easy method to follow. Basically, just put the water in a clear bottle on your roof for six hours of daylight, heat and UV radiation kill the bugs.
Choice have an
article on bottled water
that has a more comprehensive list of bottled water prices taken from a number of stores around Sydney in March 2005. The median price is reduced somewhat to about $1.15/L. Assuming there has been no recent price rise, this brings water into line with softdrink pricing ... which is still freaking insane for something that the company adds so little value to. Frankly I don't think pricing is worth more investigation other than collusion for price fixing.
More recently PBS have an
article
about bottled water looking at just how safe the water is and where it all comes from. Mmm, can you say SCAM.
Conclusions: Bottled water has a very high stupidity tax on it, that is being collected by the beverage companies. It is OK to be stupid every now and again; forget to bring your own water once in a while, but you have to learn to BYO or you'll just be funding the next Beverage Company junket.
My recommendations:
Get a water filter.
Change your water filters regularly.
Avoid buying bottled water where possible, BYO.
Don't buy softdrink in cans.
Buy Pepsi instead of Coke, Pepsi-Max instead of Coke-Zero
When BiLo has 2L Pepsi-Max on special for $1.27 then buy them all!
And remember "that human blood is 95% water" (or maybe 83%), the other 5% is pure evil.
Bottled Water Lobby's Misinformation Campaign
Oct 2008
Bottled-water sales begin to dry up
Aug 2009